Keith Robertson and Nicola Dee Kelly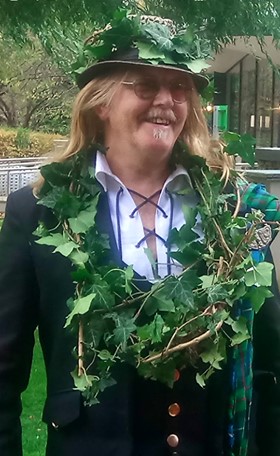 Keith Robertson MSc. F.NIMH, Director of Education at the Scottish School of Herbal Medicine Ltd.
I have 3 years of professional training plus 500 supervised clinical hours.
I joined the UK National Institute of Medical Herbalists in 1990 and served as a Council Member and on their Accreditation board for many years, setting up a clinical practice in Glasgow, Paisley Renfrew and Oban and in 1992 co-founded Scottish School of Herbal Medicine. 
In 2000, I established a world first in association with the University of Wales with a Masters in Herbal Medicine and the associated and highly regarded 4-year BSc Hons degree before stepping back from academia in 2010 and moving the School to the Isle of Arran to offer experiential learning through an Apprenticeship in listening to plants each year in Scotland, with an associated intensive course on Celtic Herbal Medicine and an international Correspondence Course at access level.
I have been a visiting lecturer to the Belfast School of Herbal Medicine, Ireland and has lectured in Canada, US, South America, Europe, Turkey and India.
Born and still living on Arran, I have three children and I follow a vegan lifestyle. I help organise the annual Arran Folk Festival and am an active member of the Arran community, involved in community forests, gardens, public access and land charities on Arran.
I am also a student and champion of Goethean or Contemplative Science as a phenomenological discipline, following the scientific methodology developed by Johann Wolfgang von Goethe. Goethe's scientific approach to colour and to the organic world stood in strong contrast to the reductionist, materialistic theories so prevalent in his day and since. To properly study the plant world my experience is that we require this approach to fully communicate with Nature. I see this as not replacing reductionist science but embracing it and bringing more meaning to the encounter.