Larry Butler, Kristine Janson, Ratnadevi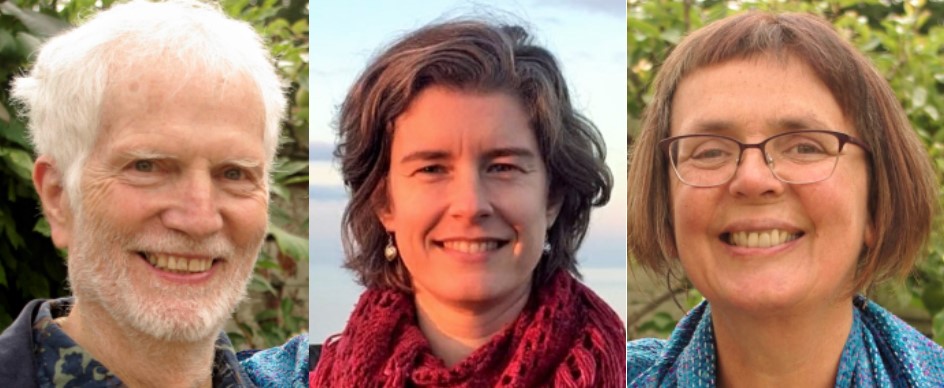 Larry Butler 
I've lived in Glasgow since 1981 but was born in Illinois and grew up in Northern California.  I've written poetry since I first learned to read at the age of 18. My first writings were slogans and protests songs for the civil rights and peace movement. 
Before coming to Glasgow in 1981, I was the founder and warden of the Diorama Arts Co-operative, director of PlaySpace Trust and Matchbox Theatre.  In Glasgow I collaborated with Graham Hartill in setting up the Poetry Healing Project which let to Survivors' Poetry Scotland which morphed into Lapidus  (the association for literature and personal development). For 37 years in Scotland I've worked as a movement and tai-chi teacher especially in hospitals, day centres and nursing homes.  In the late 80's I set up a network called Better Health for Men funded by the Health Education Board for Scotland followed by a  feasibility study called Arts on Prescription commissioned by the Greater Glasgow Health Board. 
Years later in London while working as a drama-therapist in a learning disability centre, I discovered that that I am dyslexic, and also have Attention Hyperactivity Deficiency Disorder (ADHD). I've managed to sit on a few committees, organise a trade union for adventure playground leaders, train as teacher and visual artist, work as a potter, teach communication skills to doctors and heroin addicts, edit a civil liberties magazine and a poetry anthology. 
As a writer my publications include: "Games Games" a set of 60 illustrated cards with a creative game on each, a chapter in "Creative Therapy" edited by Sue Jennings,  Beowulf a verse script for the National Theatre; poetry collections include  Yuga Night and Butterfly Bones. As an editor I publish books that raise money for charities.  My small press is called PlaySpace Publications.
I first came across Joanna Macy's work in the 1970's through a peer support network called Inter-Help, which I joined.  I attended a facilitator training course in the Work That Reconnects about 10 years ago, and then taught a similar course in Scotland
I share an allotment with Ratnadevi (where I write and read and potter)
Kristine Janson  www.earthymindfulness.com
Quite a long way from my roots in Holland, I found a homecoming on this beautiful Holy Isle sixteen years ago when I first encountered the possibility of mind-training there in the form of (mindfulness) meditation.
Since getting a taste of connecting to the fullness of experience in a conscious way, I have been a dedicated and at times slightly fanatical meditation practitioner. On Holy Isle I spent four years studying and practising meditation, and took a one-year ordination as a Tibetan Buddhist nun in my full-hearted exploration of Buddhism.
After my time as a nun, I began looking to make the benefits of sustained meditation practice available and accessible to those living their lives in the 'real world', exploring a conscious, proactive attitude to life and work. It is a daily joy to do so in the form of offering Mindfulness training in different contexts.
To learn about the delivery of mindfulness, I have trained extensively with Rob Nairn, the inspirational founder of the Mindfulness Association (MA). I feel very lucky to have been a part of the tutor team of the MA since 2010, soon after their flying start, and be involved in providing training in the deepening levels of mindfulness, compassion and insight. On the Teacher Training Pathway it has been a delight to explore with others how to share and embody the practice. The MA has full course tutorship on the University of Aberdeen's MSc in Mindfulness programme for which I am one of the Honorary Fellows.
Since the birth of my son four years ago, I have become more and more interested in the outer practice of engaged mindfulness: how can I respond to the challenges I see in the world around me? To deepen my understanding and practice in this area, I am currently participating in the Facilitator Development Programme of the Work That Reconnects, and am inspired and encouraged by exploring together with others the big questions around compassion in action.
 I am also a qualified art therapist, having earned my BA (Hons) degree at the Hogeschool Leiden in Holland in 2004.
Ratnadevi  www.livingmindfulness.net
I first encountered meditation and yoga in Germany, in 1982. Rooted in the Iyengar method of Yoga, I draw on a variety of other styles and methods of bodywork, including Pilates, Feldenkrais, and dance. My classes are characterised by a warm and open atmosphere and a spirit of inquiry. For 5 years I lived and worked in a residential Buddhist retreat centre for women in Shropshire, before moving to Glasgow in 1991. In 1992 I became a member of the Western Buddhist Order (when I received my Buddhist name) and have been teaching meditation and yoga since, in ongoing classes and on retreats, both in Scotland and internationally. I have also been mentoring many individuals in their personal and spiritual development. Since 2003 I have been offering MBCT (mindfulness-based cognitive therapy) based courses and in 2005 completed a training course run by the Centre for Mindfulness in Bangor. I also offer mindfulness teacher training courses and events, as well as supervision. I am a certified transformational coach and offer 1-2-1 coaching.
My first degree is in music and movement and in 2007 was awarded a practice- based PhD in Creative Arts at Dartington College, Devon. The title of my thesis was Gestures towards Emptiness - an exploration of ritual with reference to Buddhist tradition and innovation. Now I work as a visual artist and some of my artwork can be seen on www.ratnadevi2.talktalk.net.