Ani Rinchen Khandro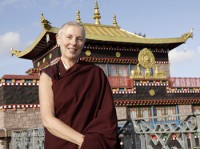 Ani Rinchen Khandro is a life ordained Buddhist nun. Having spent the first ten years of her ordained life studying and working at Samye Ling she then completed a three and a half year closed retreat on Holy Isle. An experienced practitioner of meditation, tai chi and qigong she has been teaching since 1988 and gives regular classes at Samye Ling and other Centres in the UK.

Having previously travelled widely working as a writer and designer, her communication skills and experience in meditation, Buddhist practices, Tai Chi and Qigong give her a clear and appealing teaching style.
Ani Rinchen has since been appointed by Akong Rinpoche and Lama Yeshe Rinpoche to establish a base for Kagyu Samye Dzong Edinburgh, where she currently teaches and oversees a flourishing centre.