Norton Bertram-Smith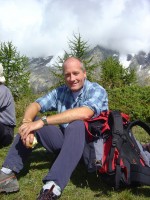 Norton believes people are at the heart of organisations and that to improve performance you need to develop everyone as leaders.
Having reflected on his own life and leadership experiences, Norton integrates both a mindfulness based approach to relationships and a thorough approach to achieving results.
Norton's business experience ranges from leading large scale infrastructure projects to leading strategic organisational change programmes. Since leaving the corporate world as Managing Director of Aberdeen Airport he has become an experienced leadership development coach and corporate facilitator. Norton is extremely well placed to guide leaders and enable teams and organisations to improve their effectiveness.
Norton has completed an MSc in Mindfulness with the University of Aberdeen following the completion of a two year Mindfulness and Compassion training through the Mindfulness Association (under lead tutor and author, Rob Nairn).
Norton also gives time to sharing his experience within the Business Mentoring Scotland Scheme, and is currently a founding director of the Mindfulness Association. He is also a member of: The Society of Organisational Learning; Presencing Institute; Noetic Sciences Institute; and the Royal Institute of Chartered Surveyors
Specialties:
Professional leadership development coaching
Authentic leadership training
Mindfulness based leadership
Defining, embedding and measuring observable leadership behaviour competencies (for individuals, teams and organisations)