James D'Angelo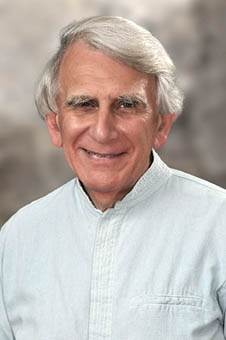 James D'Angelo has had a multi-faceted career in music as a lecturer (City University of New York), classical/jazz pianist, organist, composer, workshop leader and writer on therapeutic sound and metaphysical subjects. James holds degrees from the Manhattan School of Music and a PhD from New York University. In 1984 he emigrated from New York to London, England and eventually took up a teaching position at Goldsmiths College.
James is a published and prize-winning composer with many works to his credit. They have been performed in New York, London, Milan, Helsinski and on BBC Television. His music is in the repertory of the Gloucester Cathedral choir. It has been featured in four London mini-festivals and his 'Three Portraits of Krishna' has been recorded on Virgin Classics alongside works by Copland, Barber and Rorem. In July 2013 his fanfare for brass, organ and percussion opened the Three Choirs Festival, England's oldest and very well known festival of music. A commercial recording of his sacred choral music sung by the Washington National Cathedral Choir was released on Gothic Records in November 2014. To hear the tracks of this CD go to www.jamesdangelomusic.com and click on Complete Works and then Choral.
Since 1994 James has developed and evolved courses that focus on the theory and practice of therapeutic sound primarily through the voice using toning and chanting but also through the application of tuning forks. His study of breathwork, overtoning, tuning forks, self-actualizing psychology, his practice of sacred Sufi movements and his initiation into Reiki healing form the basis of his work and continuning evolution.
His courses have been given at many of the major venues in the UK including The Alternatives Programme, The College of Psychic Studies, The Findhorn Foundation, The Gaunts House Foundation, The Isle of Avalon Foundation (Glastonbury), The Brightlife Institute, The Theosophical Society, Hawkwood College, Goldsmith's College and The Abbey (Oxfordshire). Further courses have been offered in Europe and the USA. He is considered a leading authority on sound healing practices and is one of the specially chosen authors on the premier sound healing website www.soundtravels.co.uk. He has been invited to speak at the prestigious Scientific and Medical Network annual conferences, the Glastonbury Symposium, two Caduceus conferences (UK) and two Sound Colloquiums (USA) and two Message Company conferences (USA).
James is the author of 'Healing With The Voice' first published in 2000 by Harper-Collins. Subsequently the revised and expanded edition (with CD) of the book entitled 'The Healing Power of the Human Voice' was produced by Healing Arts Press (Inner Traditions, 2005).His second book Seed Sounds for Tuning the Chakras: Vowels, Consonants and Seed Syllables for Spiritual Transformation. was published by Destiny Books (a division of Inner Traditions International), 2012." . See the BOOKS pages for descriptions, reviews and endorsements.
Four articles about Sound Healing, written by James, can be found on the articles page: Healing Vibrations, How Does Sound Heal, Music And Sound Therapy: Bridging the Gap and Tones, Frequencies and the Chakras.